All Prompts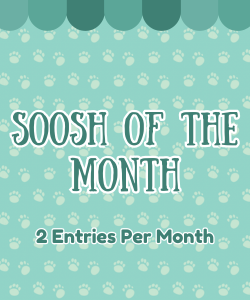 Details

✦ Soosh of the Month ✦
Month of March

Every month, a random user who has submitted to the month's prior Soosh of the Month will be featured on the home page, and our discord! The prompt will be updated every month for each user's selected featured Sushi Dog, and you can only submit twice each month!
Owned by Robotic-Sparks
Draw the above soosh to win rewards and be eligible for next month's Soosh of the Month!


✦ Requirements ✦
Objectives

Draw the above soosh, which will be treated as gift art for this month's featured User! You may not draw any other soosh owned by this person, it is only the pictured soosh that is eligible for the prompt. Be sure to send it to the user afterward so they can see it!
Artwork
 Intermediate
Full-Body & Flat-Colored

Expert
Shading & Background
✦ Rewards ✦
Base Reward

100 CR
+ 1 Raffle Entry to the next SotM
Bonuses
Expert Bonus:
+50 CR
Quest Giver Bonus:
N/A
Character Bonus:
N/A
Rewards
1 result found.