All Prompts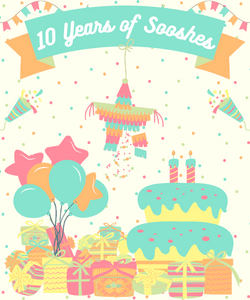 Looking Back
Ends: 30 September 2023, 23:59:59 EDT (2 days from now)
Look back on a memory to gain a previous Seasonal Trait!
Details
✦ Looking Back ✦
Sep 01 - Sep 30
Zero: "Culario's having their annual founding festival - and this is a big milestone! There are lots of trinkets and cool objects to reflect back on the past."
Cookie: "Did you know Zero and I have been working on a scrapbook for the past 10 years? Wow, this brings out a lot of memories."
Zero: "It's awesome being able to look bak on these memories and think about all the great adventures we had together!"
Happy 10 Years to Sooshes!
What is your favorite memory? Does your Soosh have a beloved moment that shaped who they are, or are they fond of days with their loved ones? Maybe they just can't stop thinking about a delicious meal they once had.

Feel free to do a regular scene, or make it more of a "memory" by depicting it within a thought bubble, scrapbook page, polaroid, newspaper article, etc.!
This is not necessary, but it can be a fun twist to your art.
Completing this prompt grants a special currency: Sprinkles!
This is a one-time prompt where the award is one previous seasonal trait.
Use the currency in the Holiday Shoppe to make your choice!
✦ Requirements ✦
Objectives
• Depict a scene that includes at least 4 Sooshes total.

• Background with at least four unique objects fully visible MUST be included alongside a full body of your selected sooshes for this prompt to be accepted. 
Artwork
 Artwork:
Intermediate
Full-Body, Flat-Colored,
Background
Writing:
Minimum 1500 words
Character
Eligible characters:
Owned Sooshes, Cookie,
NPCs, & Non-owned Sooshes
Ineligible characters:
Retired Sooshes
✦ Rewards ✦
Base Reward

Handful of Sprinkles
Rewards
1 result found.