Posted 30 May 2022, 11:05:39 EDT :: Last edited 1 June 2022, 12:40:34 EDT by
Staryon
✦ Happy June, Sushi Rolls! ✦
Let's jump right into this month's updates!!
✦ Important Trait Updates ✦
Hello everyone, we have decided to be stricter on design rules. We have had many weird situations with traits, so we are trying to tackle them down and clarify what is no longer allowed. We will be fixing rules and adding new traits in the near future, so we hope to share more with you guys soon. We have decided that:
New Gourmet Trait: Spikes
We will no longer allow spikes/horns anywhere on the body aside from the head and tails if using the Chimera Tail Trait, without this trait.
New Gourmet Trait: Fins
We will no longer allow fins anywhere on the body aside from the tail if using the Chimera Tail Trait, without this trait.
• We will no longer allow staple tails to mimic food via the use of accessories. This will be case by case, but if it looks like food and isn't listed as such, it will probably be rejected.
• We will no longer allow accessories to mimic traits. This includes horn headbands, clips, harnesses, etc.
• We will be stricter on the use of large teeth. Some sooshes in the past have had "tusks" and these will be grandfathered in.

The above traits will be slowly updated for sooshes that currently have these elements. If you have any sooshes that apply to these rules, please submit a claim so we can get them updated for you quickly.

We will be continuing to update our trait guidelines as time goes on, but this is where we are starting for now. Have any questions or suggestions? Shoot us a message or comment below! Now onto the other exciting news!  
✦ Soosh of the Month ✦
Due to some confusion on last month's Soosh of the Month, with the lack of a newsletter, we will be extending last month's winner period. Please note that Soosh of the Month ALWAYS updates during the first week of the month, and is reflected in the prompt page and about page. If you already drew the SotM last month, you are allowed to submit a second entry for TWO entries for July.
This month's winner is Starkindler !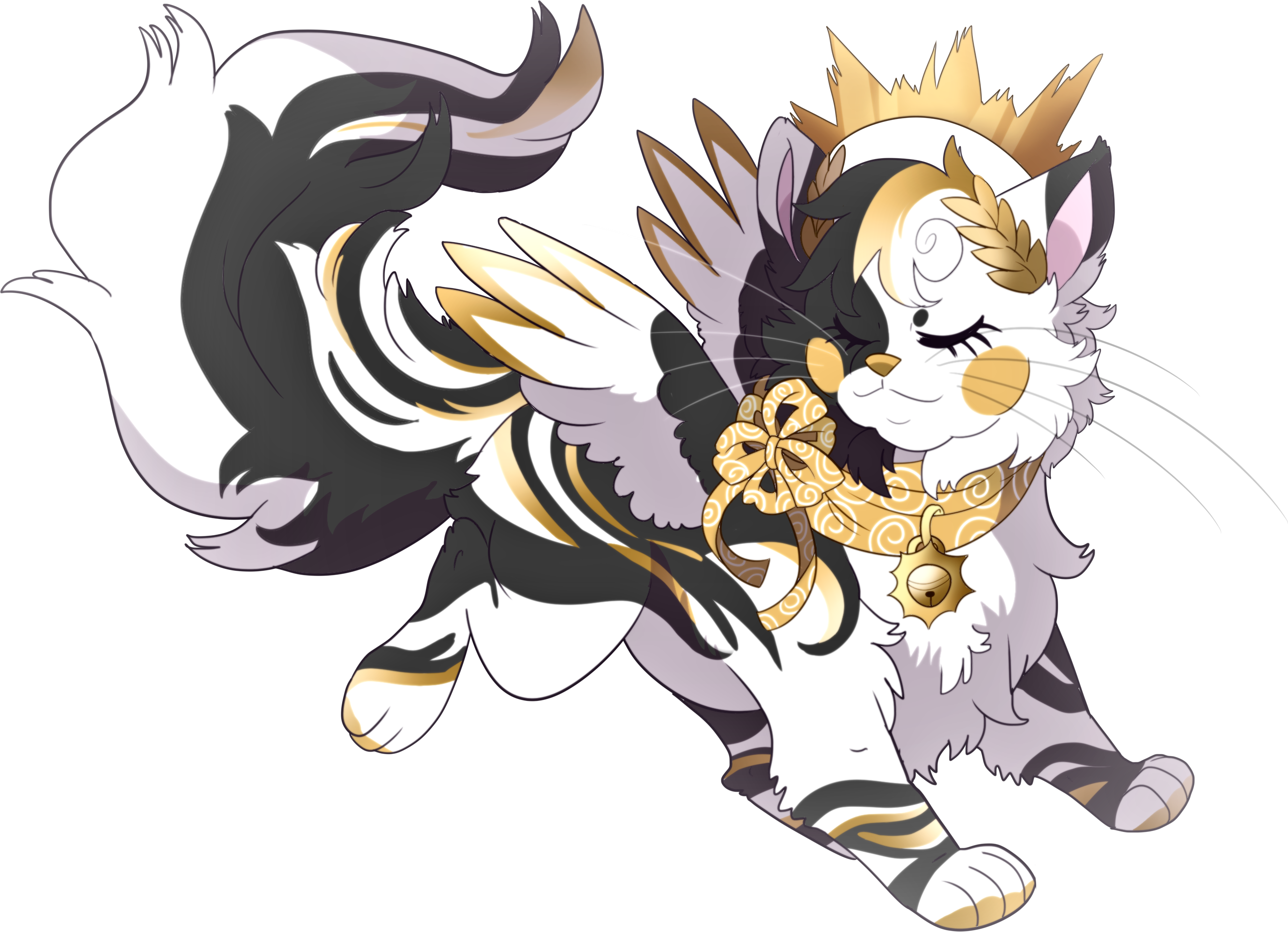 Black & White Angel Cake
Owned by Starkindler

Remember, you could be featured next month by drawing the above soosh!

✦ Grandeur Glamour Fashion Show ✦
Pommelraie hosted a fashion show in our Sushi Dog Park Server!
I wanted to do a showcase!! I love them all! All the participants did an amazing job and the sooshes look so fabulous!

(I could just stare at them all day…)
Garden Dreams
Fantastical Ball
Seafaring Desires
Each week had a winner (or winners!) that took home a prize bundle of salon goodies!
Congratulations again to shadesofangelite, kitsu, Mooncyder, and SamiTheDreamer!
Each entrant was raffled for a grand prize salon appointment by an available stylist, and that winner was shadesofangelite!
Thank you again to everyone who participated in this month-long event. ❤️


✦ Adventure Prompt ✦
Hold onto your sooshes!
 We will be releasing a new adventure prompt soon!
This prompt features our lovely NPC Edena, so please help her out ❤️



✦ Egg Hunt Raffle Winner✦
Congrats to Qualeo for winning the Egg Hunt Raffle!
The winner was rolled in our discord due to a bug with tickets.

You have won a Celestial's Gift, which allows for any one Mythical trait to be used on a MYO slot or existing soosh!


✦ Banner Contest ✦
Every two months, we will be hosting a discord server banner competition in the Sushi Dog Park discord server! This month will begin the contest for July and August banners!
Be sure to participate to earn some fantastic prizes and carats!  
 and lastly…
✦ Mod Adopt Teaser ✦
What's that in the sky??? Give me a telescope Cookie!!!
🔭 ✨
🌟 Celestials are falling down!! We will see you on June 11th!⭐️

That's all for now! Feel free to leave a comment or send us a message if you have any questions!
---
Comments
Authentication required
You must log in to post a comment.
Log in